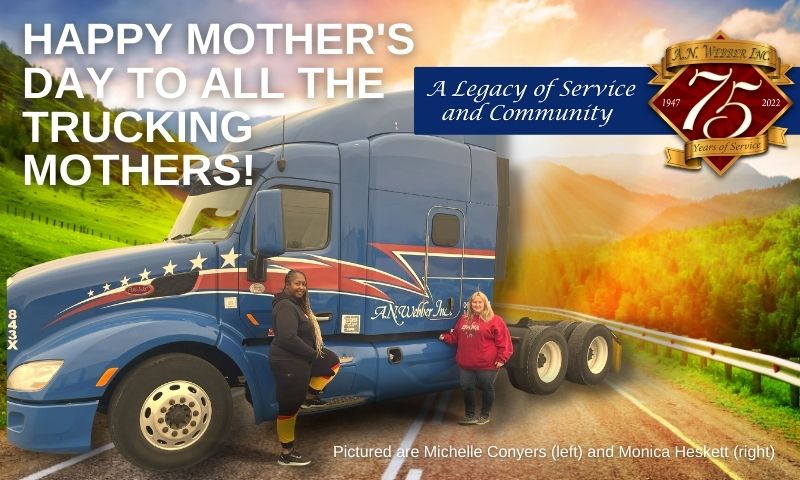 With the growing shortage of truck drivers, companies are looking to women to fill the role. As Mother's Day approaches, we would like to highlight the role that mothers in the trucking business fill and the challenges that they face.

Truck driving has long been considered a male position, however in recent years more women are turning to truck driving as a profitable career choice. According to Zippia.com 15.7% of truck drivers are women compared to 84.3% which are men. The role of a truck driver has always been a challenging one, but as a mother the challenges can be even more difficult to overcome.

Freightwaves.com recently interviewed three mothers in the truck driving industry. Each of the women stated being away from their children as one of the biggest challenges. Long hours on the road away from family can be hard for any parent, male or female, but for mothers the challenges can be uniquely hard.

LaKeesha Martin, one of the mothers interviewed by Freightwaves.com, commonly known as Queen Kee to her mentees, has been in the business for 26 years. She has one biological child, two stepchildren, five adopted foster children and has three grandchildren. She stated, "A truck driving mom has dilemmas that tug on her heart, similar to a deployed military mom. Mom guilt is just that, because for the most part, dads who work away from home are not stigmatized for their decision to be away from home. Adaptability and clear communication with my littles very early in their lives helped us to deal with the obstacles. Daily phone calls and Zoom calls have helped LaKeesha to feel more connected to home and family.

When asked about ways that the industry could change to be more supportive, Martin said, "It would be helpful if more truck stops included kid-friendly zones. Some truck stops have dog walking areas to accommodate pets and it would not be a big leap to add a swing set or jungle gym area for the kiddos to stretch their legs." All the women interviewed said that they have taken their children and family members as ride-a-long passengers in their trucks. Many companies have procedures in place that allow ride-a-long passengers.

Martin went on to say that "There are changing areas in the women's restroom but if they added a family restroom that was separated from the public restroom it would be a good start. Many stores and airports have added these features to assist families. This area could also serve as a lactation station for breastfeeding mothers to have privacy. They could also designate a family shower stall much like the one they have for the handicapped. The extra space and time to get clean with your little ones can be challenging inside a regular shower stall."

This Mother's Day let us all give a great big thank you to all the industrious mothers in trucking. If you want to show your truck driving mother some love with a gift, pick up one of the following items that not only will she love, but she will be able to use:

• Wireless Bluetooth headphones
• Podcast and audiobook subscriptions
• A coffee pot and travel mug for her rig